Packing went easily and well, which meant one less thing to distract me. Picked up a baguette with Brie to go from Miss Manon, and tucked it in my bag. Road the Metro to St. Michel with a line change, which showed me how confident I'd become with something I was nervous about when I arrived. I followed the cultivated, intelligent ladies who recorded the audio guide through the Rue de la Huchette walk, which gave me insight into medieval times. It was quite the disconnect, looking at stones carved ages ago while bobbing like a cork on the tide of tourists. What the guide had to say was insightful, but it was my first exposure to being caught up in a super touristy area lined with cheap trinket stores, cafés and the barbarian hordes. I bought a piping hot butter and sugar crêpe from a walk-by window, delicious camouflage that gave me a legit excuse to stand in the street when I paused to look and listen. Eventually, the audio guide led me to Rue Jacob. I sat under a tree in a courtyard garden of the oldest church in Paris, Saint-Germain-des-Prés, and devoured my baguette with Brie.
Among the gifts of the day, was watching fitful sunlight bloom and fade translucent  colors through the stained glass onto the flagstone floors of the Church.
The audio guide explained exactly how the whims of royalty and the depredations of war had influenced the church's interior. I sat on one of the small wooden chairs that have been in every church I've visited in Paris (as opposed to pews) and felt the centuries stretching behind me. Thought about the enduring power of faith, no matter how human being have twisted or denied it. One thing the audio guide pointed out was how the St of Rue St Severin had been gouged out of the stone street sign by the revolutionaries, who wanted to erase the influence of church. It's the day before the resurrection is celebrated in the Christian world, as it has been for 2014 years. The older I become and the shorter my string gets, the more I am astonished at  the ability of us short-attention-span monkeys to conceive of and create such a thing as art.
A little bit further along, I found myself on Rue Buci, which rang a distant bell. 'Number three on the fifth floor' floated up out of wherever I store information that hasn't been accessed in 43 years, like the fortune in a Magic 8 ball. I thought I'd just walk over and see if there was, in fact, a number 3, and if it had a fifth floor. And yeah, there it was. The garret I lived in when I first came to Paris, before I tripped and fell into modeling and my life spun off in an unanticipated direction.
I took a couple of photos to show Robert and noticed a motorcycle's mirror was in one of the shots. Appropriate, as this was a pure stare in the rear view mirror of my life moment.
 On I went. I happened by Ladurée at 4, just when my blood sugar fell into the cellar. I decided to sit down and have tea and a salted caramel macaroon or two.  Upstairs I went.  Blue velvet, gleaming silver, Earl Grey tea, sugar. I wrote postcards to my loved ones and contemplated the many pleasures of Paris. Time well spent.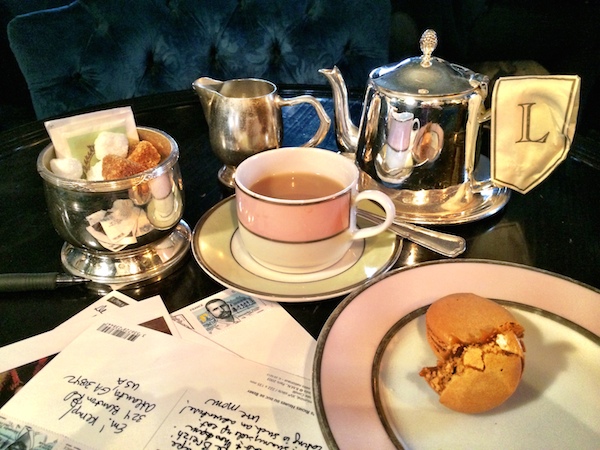 My time is done here, though so much is left undone.  It will have to suffice. I don't know how or if this will manifest in my work. For all the riches of this city, I love my life, my real life. I will be glad to get home and be with my darlin' Robert, my spoiled rotten dogs, and my studio. And, when they get back from their travels, my beloved children.  Out of the rear view and into the present moment. But not just yet. Ten more days to go.
I've heard the King of Holland is going to throw a party, his first birthday as the national holiday.  Good thing I've got that tangerine scarf. Heading for the CDG airport at 7am and the next chapter in this travelogue; Amsterdam, and the Rijksmuseum.