At breakfast I edited my blog entries and set up a useful travel hack. I emailed myself exact addresses I'll need for that day, so I can quickly copy and paste into Uber. I made sure to download that email before leaving the hotel's Wi-Fi. The Hermitage was closed on Mondays, so I eased into the might and splendor of Imperial Russia.
I walked to St. Nicholas church, that baroque orthodox beacon of beauty with the golden domes and crosses.
As I entered, a mass was being sung a capella. I bought and lit seven slender tapers and took those moments to calm and focus my thoughts on something greater than myself. When I'm traveling, I'll open any church door in hopes of finding art, and while I'm there, say my prayers. I lit candles for family, friends and myself. I need divine intervention to keep from being obnoxiously self-righteous when other tourists ignore the No Photographs or Video signs.
There were half a dozen ladies cleaning and dusting, policing candles, keeping a sharp eye on tourists. Women so small I could have mistaken them for children. They barely had to duck to walk under the swagged chains set up as barriers to separate the congregants from visitors. One lady in a kerchief and apron vigorously polished silver in the hall by the stairwell. Ceaseless communal effort, like devotionally inclined bees. The air smelled like honey and wax and layer upon layer of incense. Intensely sweet and spicy and musky.
The congregation stood on the other side of the chain, closer to the chanting and altar, but in no visible pattern or order. I couldn't see any pews or chairs. During the service the priest prostrated himself many times, full length and face down on the floor. A tall, fashionable woman in jeans and boots did the same.  A young woman with a toddler passed by me, ducked under the barrier chain and walked over to an icon of the virgin. She picked up her little boy and held him as he carefully lit and placed a candle in a round brass candle stand. You could see he was accustomed to having an active place in this spiritual community, one in which he was lifted, raised up, and he added to the light.
I left feeling better than when I arrived.
From there, it was an easy stroll to the Yusupov Palace. There was one line for the entry ticket, another for the coat check, a third for the audio guide, but then I was free to wander to my heart's content. Though lady guardians firmly insisted I  visit rooms in order on my first pass, they had no problem with backtracking. I noticed this in Prague too, the insistence on seeing every comer, in order. At the Yusupov I was between a large Russian tour group and Indian gay couple and an American tour group, trooping from one gorgeous, sumptuous, ornate room to the next.**
I loved the library with its secret safe that protected  letters of Puskin not rubles.
The ballroom was empty except for a massive chandelier, but you could imagine the musicians tuning up, the swirl of skirts and dash of uniforms, the heat and chatter, the flicker and drip of dozens  of candles burning over it all.  Former residents were known for wealth and beauty.
I was particularly taken with the luster of pear wood furniture.
Blue bedroom to dream in.
Red room to entertain a small company of close friends.
I didn't forget to look up.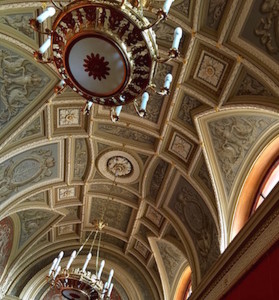 While I was looking up, I heard this coming from the theater (yes, they have a theater. it's a palace, yo.)
Lunch was at the nearby restaurant The Idiot, which takes its name from the eponymous Dostoyevsky story. Visually, it's a worn leather book of place, stitched together from little odd shaped rooms filled with discarded Victorian furniture, dark pattered floral wallpaper, and a clutter of books, paintings and framed photographs. I ordered pumpkin soup and the server plonked down  bread, cutlery, and complimentary shot of vodka. Um, nyet, I said, but complimentary tea would be welcome. I didn't get any tea and the food wasn't great either.
On the walk back, I noted that many bridges had their personal sphinxes and lions guardians.
I could hardly sleep for thinking about the Hermitage.
**this was before I saw the Winter Palace. Now I realize they were just making a modest effort. Though, gotta say, the Yusupov family, an older and richer dynasty than the Romanovs, had perhaps better taste. Decor shock and awe may be good political move, but it's got to be a bitch to live with. I needed Oakleys for some of those rooms.