We did a little early morning photography. In the window of my room;
Hopped on a tram, led by the fearless traveler on public transport, Robin. Got off and reversed direction a stop later, arrived without further incident at the Trade Fair/Veletržní Palace – museum of modern art – without further incident.
Saw adorable kids dressed like street workers in banded reflective vests drawing the Zodiac Heads installed by Ai Weiwei along the front terrace of the museum .
From the brilliant light of a bright sunny Prague day, I entered the dim world of the Slave Epic, the twenty enormous canvases the comprise Alphonse Mucha 's magnum opus.
Awesome achievement on often harrowing themes. Not entirely liking the roles he assigned women in his work, but holy Christ on a cracker this stuff is egg tempera and oil.  I liked the graphic strength of the compositions combined with his frequent use of subtle pastels. I loved his dedication and his commitment to his ideals.
He gave it his all.
Here's two details, a lovely curve of a belt;
And corner of the knight on the lower right hand side of the canvas.
And people say I'm obsessive.
It puts me in mind of the questions about art raised in the book, The Forgery of Venus by Michael Gruber.

Afterwards, I strolled to Lokal and pigged out on ham, whipped cream and horseradish, 'cabbage salad' (Czech for coleslaw) and potato puree, aka mashed potatoes.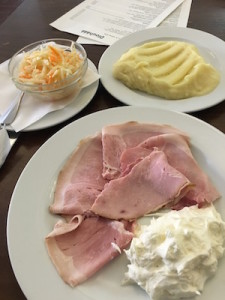 Did one of the audio walks around the old town, glad they encouraged me to look up above the gaudy tourist tat and focus on the architecture and history, like this peacock;
I saw a lovely painting of Mary and St Luke in the church of Tyn, where Tyco Brahe is buried, then back to the Golden Well.