The Isabella Stewart Gardner museum is closed on Tuesday, which made the decision to go today easy. It's my last chance to visit before I leave Wednesday morning.
Not snowing but the temperature is stuck in the single digits. Nevertheless, after four days of bad coffee, I went in search of quality espresso. It wasn't too bad at first, as long as no skin was exposed, but after a block I couldn't feel my face, and the two fingers exposed to tap my iPhone were going numb. I couldn't find the local joint, Pavement Coffee – must've walked right by it looking at my iPhone instead of around – but I found a Starbucks. The nice barista gave me his highest rec for a local place called the Wired Puppy, and I decided to try for that tomorrow.
Uber drove me from Starbucks to the ISG museum, the Venetian-ish villa Isabella built for herself in Boston's lowland marshes. I heard the canary that lives in the visitor's library chirping all the way to the ticket desk. The library was bright with its floor to ceiling windows, sunlight bouncing off the snow, and hanging lamps with cherry red shades.
Light dimmed like an eclipse as I walked through the short stone alley into the main building. The mood shifted with the light and the way the eye naturally gravitated to the central courtyard's palm trees, fountain, and medusa mosaic. The sound of water must have been the soundtrack during Isabella's residency too.
First I took a detour to the right, and gazed at the 12 foot wide, tour-de-force by Sargent, El Jaleo.  

Next I sat on one of the stone benches beside the courtyard garden and drew a pistachio orchid, a simple act that focused and calmed me.
Drawing is my gateway into the quiet, languid pace of this venue. Once the drawing is done, I'm ready to enter the space she invented to house her collection of paintings and object d'art, her storehouse of memories.

I drifted through the rooms and corridors and listened to everything the audio-guide had to offer me. I particularity loved a director's insight into the prevalence of the female here – portraits of queens and courtesans, virgins and saints, matrons and musicians, goddesses and heiresses.
It's a veritable citadel of the feminine.
I broke for lunch at Cafe G; two bowls of soup. I loved the window view, but it was freaking cold. 
Back in Isabelle's world, I thought these devotional works, on a smaller scale, were potentially interesting shapes for metal boxes.
[easy-image-collage id=2510]
I found an actual reliquary on the third floor in a glass front cabinet. Thrilling.
On my previous visit, I saw the illuminated manuscripts that are also an inspiration for my own reliquaries.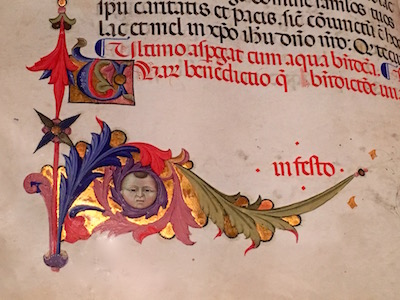 Before I left I made time to sit quietly before a startlingly contemporary portrait of Christ, and just beyond it, Titian's sensual masterpiece, Europa.
Europa is underlined by a swath of white silk taken from a gown designed for her by Worth in Paris. 
This juxtaposition of the sensual and the spiritual seemed to sum up the competing forces that drove Isabella, her thirst for both kinds of satisfactions. Her character rejoiced in contradictions and we are the fortunate beneficiaries of it.
For some reason, lots of people called me today. My message ringtone kept firing off, and, even though it was quiet and muffled by my pocket, I was embarrassed to be that person. Next time, I'm hitting airplane mode when I cross the museum threshold.
Back at the hotel, my room was cold. I'd set it for 70 degrees but the thermostat showed 62. Hated to complain but when the night guy dropped off bottled water I asked about it. "Off in all the rooms," he said cheerfully. "They called a guy. He's going to reset it. Should be good soon. Get a blanket." I did and it was.
Can hardly believe tomorrow is my last day. My plan is hit the Wired Puppy then MFA all day, baby. I have that double pull – wishing I could stay another week and longing for home.